But... I have one more to show you! During all the birthday mania this last week or so, I threw this one into the mix, because I know britney wanted chocolate frosting, and I know she loves junior mints :)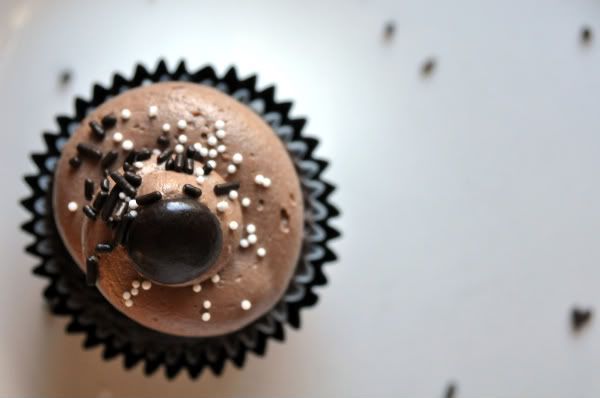 Also, I made up a simple chocolate buttercream recipe.

the easy choco buttercream:
1/2 c. butter
1/2 c. shortening
1/2 c. cocoa powder
2 c. powdered sugar
1 t. vanilla
1-3 T. milk

Cream the butter and shortening in a mixer. Add the cocoa powder and mix until the lumps have completely smoothed out. Add the powdered sugar and mix completely. The mix will be dry, but continue to mix to ensure that the powdered sugar and butter mixture are combined (make sure to scrap down the edges). Add the vanilla and 1 Tablespoon of milk. Mix thoroughly. Continue adding milk a Tablespoon at a time until the desired texture is reached.
Keep refrigerated until about an hour before use. If it's too warm it won't hold a form, if it's too firm it makes it more difficult to pipe.
Use sprinkles and candy to decorate!
(I'm sorry if this recipe doesn't turn out perfect. I don't always keep track of what I'm putting in a mixing bowl! Just taste test along the way and you'll be fine.)