Well the votes are in , and yes, I win the award for the worst blogger of the month award :) I thought for sure once things kind of got rolling with school that I would get in a groove and find time, but didn't. And not really that I didn't find time to get to my computer and read your blogs, but to cook, and then take pictures (which has to be done in the afternoon) and then write up the recipe, and all that. I also thought I would have my "little shop" open the day after thanksgiving as a it's almost christmas suprise, but, it's not quite there. But with the christmas shopping spirit in full force (being the day after thanksgiving and all) I thought I would share my wish list. And here it is...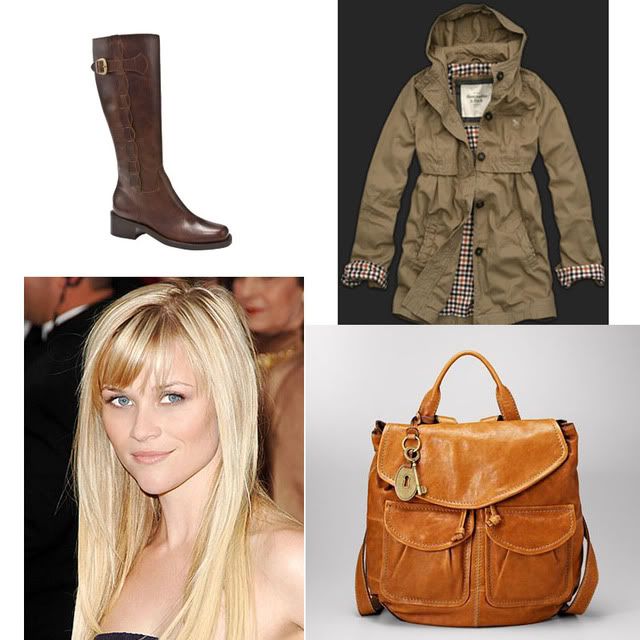 What's funny about this wishlist, is that I can't really have any of these things. Sad I know. The boots (nicole winchester riding boots) are a style from last year, and even though I technically purchased the only pair available anywhere, they got lost in the mail. Don't feel too bad for me, I found a similar pair and decided to just deal with only getting my second favorite. The jacket (dalilah from abercrombie and fitch) is also an older item of theres and not available anywhere. But I love it so much and tried my hardest to find it. Found it, and then things went awry. We were charged but the order was cancelled, and still not resolved. I'm probably not going to get it. The bag (from Fossil) is gorgeous right? Well I've been wanting a new purse for about a year and a half, ever since I grew out my last fossil bag, and it started having some strap issues, but I just can't seem to find one that I like. And everytime I say to myself, ok, I think I really like that one I was looking at, I find out it is sold out. What do you think of the one above, I think I like that, not sure if it's sold out so I better make up my mind :) And the lovely straight and LONG blonde hair, well that's just a silly wish I threw in because, OBVIOUSLY I can't have that right now :) I'm still working on getting the hair past shoulder length, it's been stuck there for a few years now, and most likely it won't ever be as pretty as the gorgeous miss witherspoon's.
Moral of the story.. My wish list isn't really very important :) I'm not into christmas shopping. I think I tried to go christmas shopping nuts one year, and realized, it's just not that important. I LOVE the holiday season, thanksgiving almost more so than christmas, and I think it's because its a relatively no stress holiday. Yes, I still by gifts for the loved ones, but it's not number one on the list during the season. So I just thought I'd show you a few pretty things, but remind you that the holidays should be about love, and family, and gratitude, and all those warm fuzzy things.
This is my first married holiday season, and we're both so lucky to have so much family close by, and so much love. What I'm looking forward to most is having a break from school, and getting to spend more time with my husband and family.
with love,
kristin ann :)
p.s. I can't wait to have some more time in the kitchen in a few weeks.. get excited :)