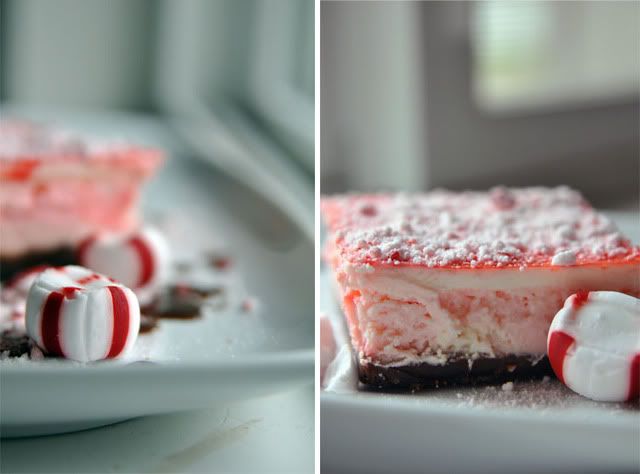 *the great thing about doing a cheesecake in a 9x13 or on a cookie sheet, is that it not only cooks faster and more even, but you don't have to do it 2 or 3 days ahead of time. My vote now goes to cheesecake bars, instead of your typical cheesecake.

chocolate shortbread cookie crust:
1 c. butter
1 c. powdered sugar
3/4 c. powdered cocoa
3/4 c. flour
Cream butter, sugar, and cocoa in a mixer until completely combined, make sure to scrap the bottom of the bowl. Add flour, and mix until combined. In a buttered 9 by 13 pan (or bigger if you have it) press dough evenly on the bottom of the pan.
Bake at 375 for 10-12 minutes. Because you cannot see a golden color, you just want to make sure that it looks as if it is cooked, and not a cough dough texture anymore.
Cheesecake filling:
24 ounces of cream cheese (3 boxes)
¾ c. sugar
3 eggs
1 T. vanilla
¼ t. salt
1 c. sour cream
a few drops of peppermint extract (to taste)
1/2 c. crushed peppermint candies (I like the ones that melt in your mouth, not the hard candycane ones)
Topping:
2 c. sour cream
1/2 c. sugar
crushed peppermint candies, and whole candies
Cream the sugar and cream cheese in a mixer or with beaters. Add one egg at a time, scraping the bottom of the bowl after every egg. When completely combined (it is very important that you have no lumps, so the first few steps are crucial) add vanilla salt and sour cream. Mix until smooth. Add peppermint extract and candies, if you want more flavor, add a few more drops. Pour filling into crust, smooth out top.
Bake for about 1 hour and 20 minutes at 330 degrees. It can be tricky to know when the cheesecake is done. The top should lose it's wet luster and have a dull look to it and it should be set. Check at the 1 hour mark first, if it is starting to crack or brown, turn the temp down to 300. Add the 2 cups of sour cream mixed with the sugar to the top of the cheesecake. Be careful to only add small spoonfulls at a time as to not break to the top. Smooth out and bake for another 10 minutes. Make sure you place on a rack for an hour or so before placing in the fridge. You should keep the cheesecake refrigerated for at least 24 hours before serving.
Decorate with the crushed candies, and chocolate sauce.. you know, if you like chocolate :)
I hope the directions make sense. I took most of the instructions from my basic cheesecake, and then made the adjustments for the chocolate crust and candycane filling. Normally I put the candycane crumbs on before serving, but I put it on a few hours earlier, and so it somewhat dissolved, hence the pink/red layer over the top. It turned out kind of pretty.