I have had a busy week! With Jennifer's birthday which I made cupcakes and brownies for, cousins coming into town, a murray/gallagher family birthday party (including Martin's brother, father, aunt, and grandma who all have birthdays this week, if you can believe that) which I made cupcakes for, 2 Martin Murray shows, a giants game, a party for my friend Alissa who won the Singing Bee (a lyrics tv game show on CMT) which I brought cupcakes to.. and geez, I'm sure there was more.
Anyways.. these are the cupcakes I made for 2 of the parties and they were a huge success!! Super easy and super delicious, I hope you enjoy!
Cupcakes:
1 box of white cake mix
3/4 c. my mom's strawberry jam :)
(just kidding you can use any kind, hers is just the best though)

Frosting:
1 box of cream cheese
2 c. powdered sugar
1 t. vanilla

Sprinkles!

Follow the cake mix instructions for the cupcakes. I like to use the foil baking cups found at any grocery store (it's a double cup, the bottom layer a foil cup, the top layer, a plain white baking cup). It keeps the cupcakes from burning or overcooking on the outsides. If your oven usually burns, turn the heat down to 325, sometimes the box instructions says to do the same. Make sure you don't overcook them! They're only delicious if there moist, so if the box says 20-26, you're most likely going to take them out at 20. Use a toothpick, test the center, it should come out with batter on it, but a few crumbs is fine. Cool before frosting. I like to refrigerate them.

For the frosting, cream the cheese and sugar together in a mixing bowl with the whisk attachment, or with beaters. Mix until there are no more powdered sugar lumps; make sure the edges are scraped down. Add the vanilla, and mix till completely combined. If it is too thick you can add a few drops of milk. I use a frosting bag and a decorating tip, but you can frost with just a spoon to make it easier. Surprisingly, decorating with a bag makes things go much quicker. It does take some practice but once you have the hang of it, it's like riding a bike, you just don't forget. For an even more strawberry cupcake you can add a few spoonfuls of strawberry jam to the frosting and pink/red food coloring, like I did with these pinkalicious strawberry cupcakes.

I used two kinds of sprinkles; the colored sugar crystals, and the mini white pearls. Rainbow sprinkles would also go great with this cupcake.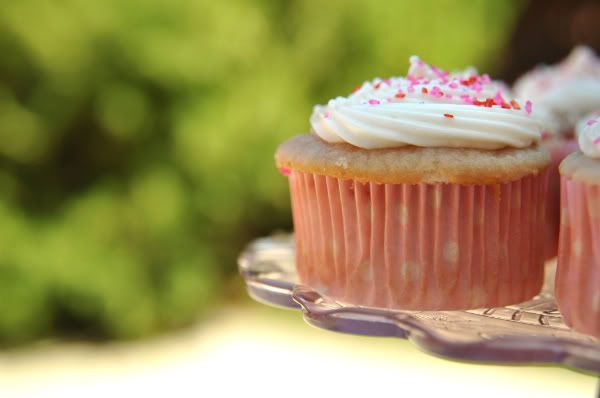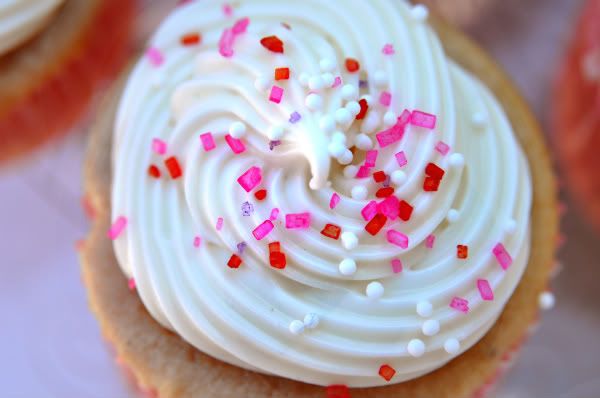 p.s. Mary, thank you for the adorable pink cake stands :)