A while ago I posted this recipe for peanut butter cookies, it's my favorite, always turns out amazing. THIS recipe is just the gluten free and slightly less processed version. My goal is to make it completely unprocessed and more natural but I'm not completely there yet. Surprisingly I didn't have to change the amounts of any ingredients, just simple substitutions, which was amazing! I might actually keep this healthy baking up now :) So, all I did was sub Bob's Red Mill all purpose gluten free flour, for traditional all purpose flour, and organic coconut sugar for granulated sugar. It wasn't much of a change, but gluten free! My next step is substituting all the sugar, and switching out the butter for coconut oil.. next time!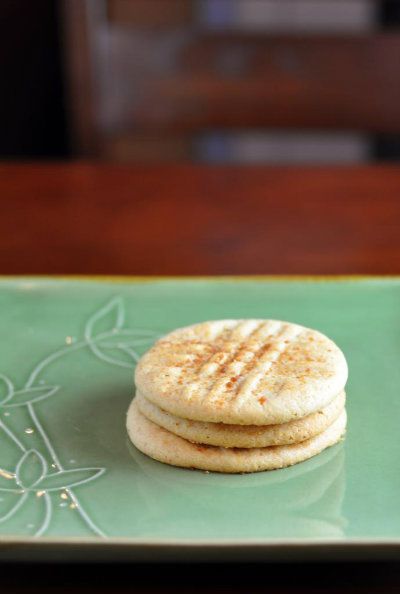 Gluten Free Peanut Butter Cookies

1/2 c. butter
1/2 c. brown sugar
1/2 c. organic coconut sugar (or regular sugar)
1/2 c. all natural peanut butter
1 T. honey
1 egg
1 1/2 c. Bob's Red Mill all purpose gluten free flour
3/4 t. aluminum free baking soda
1/4 t. salt
Cream butter and sugars till light a
nd fluffy. Add the peanut butter and honey, mix thoroughly.
Add egg , make sure to scrape bottom of bowl, and continue to mix.
Mix in flour, baking soda, and salt.
Use a cookie scoop or spoon, and then roll into 1 inch balls.
Use fork to make cross marks, dip fork in flour if it sticks to the dough.
Sprinkle the top with sugar (I used the coconut sugar).
Bake at 375 for 8-9 minutes.
Makes about 2 dozen.
I like my cookies soft and chewy, so I'm very careful about when I take them out of the oven. The cookies will puff up slightly and start to gain a little color around the edges before ready to be taken out.
*Important side note: the dough should not stick to your hands. You should be able to roll a ball without a mess, so if it's sticky, add a little more flour. Reason that the recipe doesn't always have the same moisture levels include, size difference in eggs, temperature of butter, brand of flour, brand of peanut butter.. tons of things! So just keep this in mind.