Martin had a birthday this weekend! We have had such a great week and it is only going to get better. We spent a day in Santa Cruz at the beach and downtown with Jen for day one of his birthday celebration. Then we spent a day and a night in Monterey, which was one of the best days I think either of us have ever had. We drove up early in the morning and kayaked the Elkhorn Slough which starts at the mouth of the bay, but you kayak up and around marshlands were seals, otters, jellyfish, birds and lots of wildlife is all around. It was amazing, I'll say that. Then we went to the aquarium, which I haven't done since I was little, and spent the evening in the honeymoon suite at the Colton Inn (an adorable bed and breakfast). Today we leave for the Russian river and will not be back until next Sunday, we can't wait!
For the cake, which I forgot the night of the Santa Cruz day, I had a little surprise party planned for Martin at my parents house just so I could have the opportunity to make him a cake, which was a Reese's peanut butter cake! I haven't done too much with peanut butter so this was an experiment for me. I found a similar cake to the one I made so I visually based the cake on that, and then I looked around for a peanut butter buttercream, and decided to whip up my own. It was delicious! I recommend it!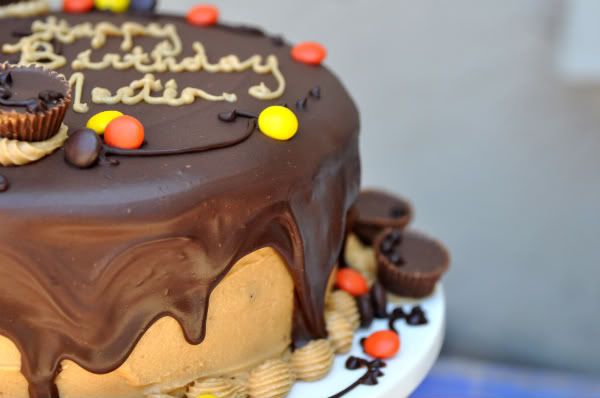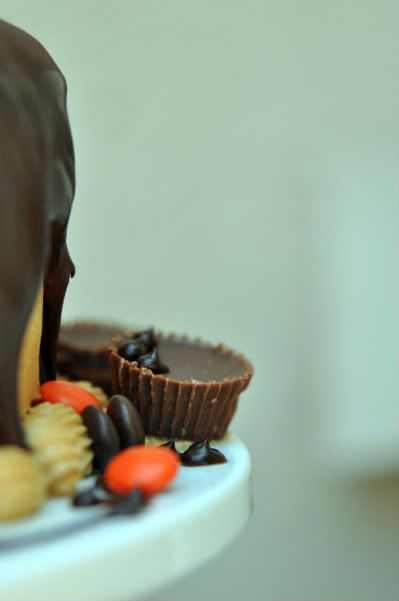 Peanut Butter Buttercream
(this is for one basic cake mix)

3/4 c. peanut butter
1/2 c. butter (1 cube)
3 c. powdered sugar
1/4 c. milk
1 T. vanilla
1/2 c. cream

Cream the peanut butter and butter until light and fluffy. Add powdered sugar and beat until the powdered sugar is completely combined and there are no lumps. Add the milk 1 tablespoon at a time while mixing until all milk is in. Mix in vanilla. You can just add milk until the desired texture is reached if you prefer to not use cream, or if you don't have any on hand. But the cream gives it more rich and cohesive consistency. Mix for 1 to 2 minutes. Add sifted powdered sugar to thicken the frosting or add more milk to thin.



Chocolate Ganache

1 bag of semi sweet or milk chocolate chips
1 1/2 cups of cream

You can mix the two ingredients of a double boiler, until chocolate is completely combined and then for about 2 more minutes over the heat with a whisk, or use a microwave. In a glass bowl add both ingredients. Heat for about 1 minute, and whisk. Heat for another 30 seconds and mix. Keep heating and mixing until chocolate has melted completely. Make sure to whisk thoroughly at every break.
If the ganache is for a filling, which I did use for one layer, you will want to refrigerate it before use. If the ganache is to pour over the top, you will want it at about room temperature.