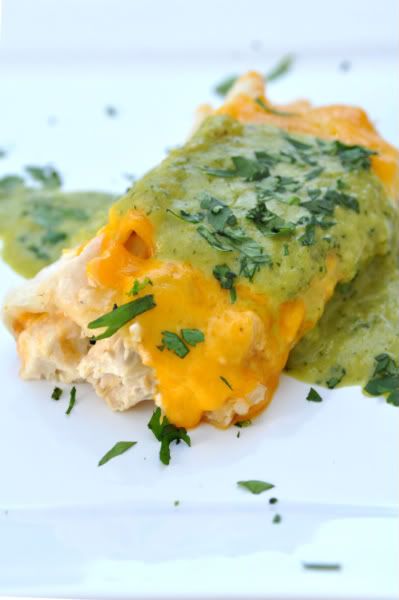 Ingredients

1 large onion minced (very fine)
2 packages of cream cheese (16 ounces)
1 lb. container of sour cream
3 cups grated cheese
1 can of olives
10 flour tortillas (medium, about 8 inches)
4 cups of chicken cooked and chopped
3 T. milk
Cilantro Green Chili Sauce:
2 cans of green chilies
1 bunch of cilantro
1 lime
½ c. olive oil
The chicken can be chicken breasts of chicken off the bone whichever you prefer. Sometimes I use leftover baked chicken or you can grill, boil, or bake chicken breasts.
In a large sauce pan heat up a little bit of olive oil, or butter, to sauté the minced onion; cook for about 5 minutes or until translucent. Take off heat and add cream cheese. Add sour cream and whisk until there are no more lumps, or close to none. Add salt and pepper to taste and remove about 1/3 of the mixture and set aside (it will be poured on top later). To the large amount of the cream mixture add the olives, chopped, the cut up chicken, and 1 ½ cups of the shredded cheese.
In a 9x13 pan start to assemble the enchiladas. I use a 1 cup measuring cup to spoon the chicken mixture into each tortilla (each tortillas will need about 1 cup of the mixture). Spread it lengthwise on the tortilla and roll up, place fold side down in the pan. If on your last 2 it looks as though you'll have less or more than 1 cup of the filling for each just try to split it evenly among the two.
Add a few tablespoons of milk to the 1/3 of the cream mixture that you set aside. Pour that mixture over the top of the enchiladas and spread evenly. Bake at 375 for about 40 minutes. The edges should all begin to bubble when it is done. When this happens, add the other 1 ½ cups of shredded cheese to the top of the enchiladas and bake another 5 minutes. Let sit for a few minutes before serving.
While the enchiladas are baking puree the chilies, cilantro, olive oil, and juice from 1 lime, in a blender or food processor until completely smooth. This will be the sauce to go over the enchiladas, just a small amount. I usually save some cilantro to sprinkle on each serving as well.
P.S. This recipe is only about a quarter mine. My Mom has been making enchiladas similar to these for years. She uses cream of chicken soup usually, and it is a very common recipe, I just switched a few things around :)