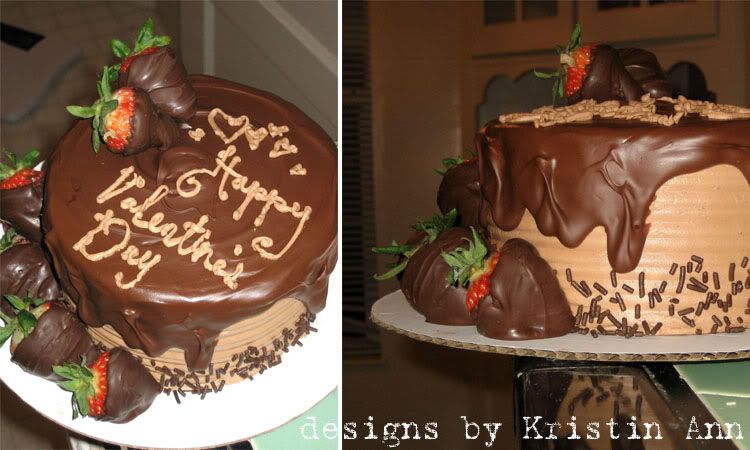 This is one of my favorite cakes to make for sure. The chocolate dipped cake :) I used a box of any old chocolate cake mix, prepare it as directed. (For this size cake I used smaller pans then the usual 8 inch, but you can make this cake as an 8 inch for sure). Whenever I plan on layering and frosting a cake, I freeze the cake, still in the cake pans; just to provide a little more stability while frosting and decorating. I used two cake pans, and cut both of those layers in half. So I layered, strawberry filling (my mom's homemade jam), layer of my chocolate buttercream, and then another layer of strawberry filling. After frosting the entire cake with the buttercream, the cake goes in the freezer, just for an hour or so. The melted chocolate over the top, you can find at any grocery store, I'm not sure of the brand, but it's usually by the chocolate chips and it comes in a little bowl almost, and it's meant for dipping fruit. I follow the melting directions and then add a few tablespoons of butter. Pour the melted chocolate over the top of the cake, using a spatula to spread evenly, and the chocolate drips over the edges; gorgeous, I know! You can dip the strawberries before hand and have them dry, but you may have to use toothpicks to keep them in place, or just arrange the strawberries on the cake as you dip them in chocolate.
Vanilla or Chocolate Buttercream Recipe
Makes about 10 cups
2 1/4 cups sugar
9 large egg whites
2 cups of butter (at room temperature)
2 cups of shortening
3 t. pure vanilla extract
1 bag semisweet chocolate chips (optional)
Over a pot of simmering water, in a heatproof bowl, whisk together sugar and egg whites until sugar is dissolved and mixture is very warm to the touch, about 5 minutes. Remove From heat. Beat on medium until completely cooled and stiff peaks have formed, about 10 minutes.
With mixer on medium, add butter a few tablespoons at a time until completely combined, then shortening, same process. Add vanilla, beat on low speed until smooth, about 5 minutes.
If you want the chocolate buttercream, add the semisweet chocolate chips, after being melted completely, and slightly cooled. Frosting is much easier once cooled, so refrigerate about an hour or two before use.
p.s. this recipe is mostly a martha stewart recipe, I made a few changes ;)