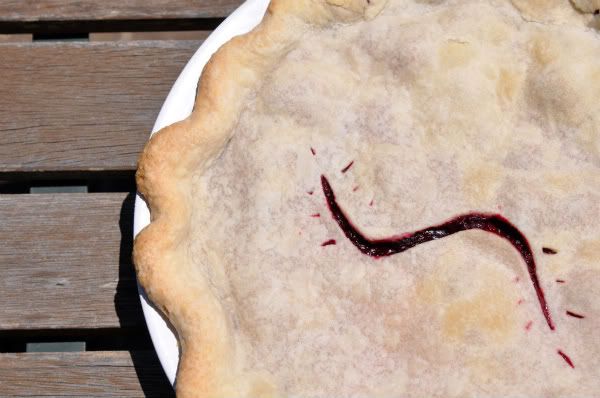 These wonderful berries are out of my family's garden, which I just love.
For an 8-9 inch pie
Pie Crust Recipe:
2 c. flour
½ t. salt
¼ c. sugar
2/3 c. shortening
8-9 T. cold water
For detailed directions of my
pie crust
.
Boysenberry Filling:
4 c. berries
1 c. sugar
2 T. flour
3 T. cornstarch
1/4 t. salt
If you don't have to wash the berries, don't; they tend to hold a lot of water in them, but if you must, dry them well. In a separate mixing bowl, mix the sugar, flour, cornstarch, and salt. Gently mix in the berries. Add the berry mixture to the empty pie crust, and spread evenly to the edges.
Cover pie with top rolled out crust. Roll the edges in to seal in the berries and design the edges however you prefer. The top should have some kind of an opening to allow air to be released, use any design you prefer for that as well, with a knife, just deep enough to cut the crust.
Bake at 375 for about 50 minutes. The edges of pies have a tendency to burn, so you may need to use a pie crust saver, or just foil will work fine. You can cover almost the entire top and edges with foil, just as long as you cut a hole in the center, to allow air to flow. The pie is done once the filling begins to bubble through the cut made in the crust.