Remember the gingerbread cupcakes I posted from the wonderful Martha Stewart, well I used the same recipe and made an amazing cake!! Try it out for the holidays, it was honestly so delicious, I know you'll love it.

Gingerbread Cake

2 teaspoons baking soda
2 1/2 cups all-purpose flour
2 teaspoons ground ginger
1 1/2 teaspoons ground cinnamon
1 teaspoon ground nutmeg
1/2 teaspoon ground cloves
1/2 teaspoon salt
2 teaspoons baking powder
8 tablespoons (1 stick) unsalted butter, room temperature
2/3 cup packed dark-brown sugar
1 cup unsulphered molasses
2 large eggs, room temperature, lightly beaten

1.Heat oven to 350 degrees.. In a small saucepan, bring 1 cup water to a boil. In a bowl, combine boiling water and baking soda; set aside. In a large bowl, mix together flour, ground spices, salt, and baking powder; set aside.
2.In an electric mixer fitted with the paddle attachment, cream the butter until light. Beat in the brown sugar until fluffy, 1 to 2 minutes. Beat in the molasses, baking-soda mixture, and flour mixture. Beat in the eggs.
3.Using 2 cake pans (that have been buttered or sprayed with a non stick) evenly distribute. Bake cakes until a toothpick inserted in the center of them comes out clean, about 20-25 minutes. ** The most important part of baking a cake is to not let it overcook. If you check the center with a toothpick and it comes out almost clean, so cake morsels, not just goo, take it out. I keep this in mind with making just about any dessert.
Let cakes cool for an hour or so before frosting.
Whip about a cup of cream and 1/2 c. powdered sugar until stif peaks form. Use as frosting. Lightly dust with cinnamon or nutmeg for decoration. Keep refrigerated until you serve.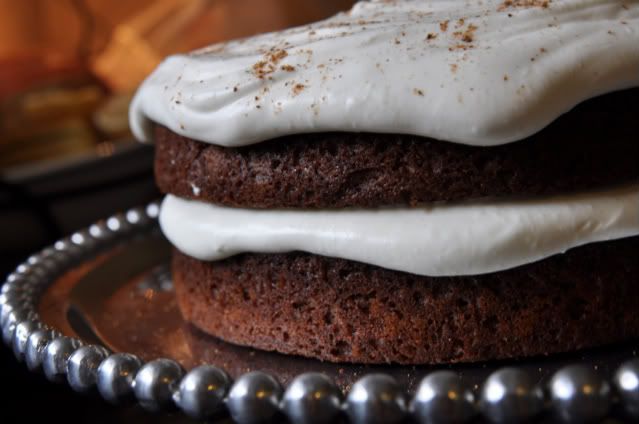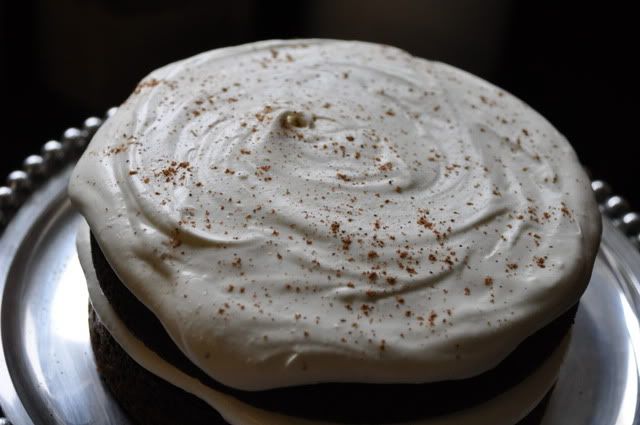 I owe a huge thank you to my friend Ashley who found this amazing cake stand for me!! I'm still on the lookout for a few more, so any ideas help, I've checked out a few places, but I'm always willing to go somewhere new. Anyways, isn't it so cute!?
Because I've become a part of Martin's family over the past year or so, I now have more birthdays to make desserts for!! Happy belated birthday to Grandpa Gallagher and Uncle Johnny. (A cheesecake post is on it's way, and another cake actually, I had a very, very busy weekend).
Happy Tuesday everyone!!!
{If you have any recipe suggestions for the holidays, let me know, I'd be happy to help.}