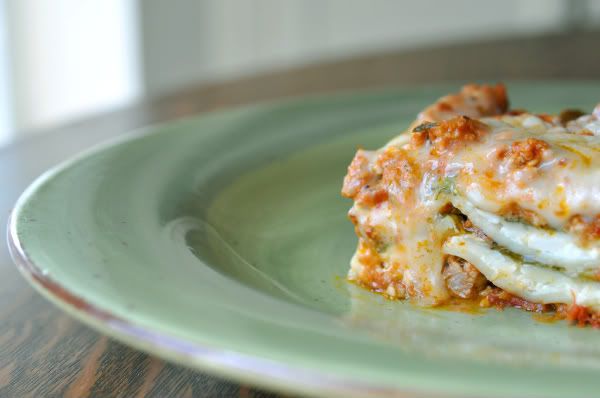 6 lasagna noodles (make 7 just to be on the safe side, we like a gluten-free version)
1 lb Italian sausage
1/2 lb ground turkey
1 small onion (chopped)
1 jar of tomato sauce
1 T. crushed red pepper
1 bunch of fresh basil (chopped)
1 bunch of spinach leaves (washed and without stems)
1 (16 ounce) container of cottage cheese
1 egg
1 16 ounce package of mozzarella cheese
1/2 c. grated parmesan cheese
Cook the lasagna noodles according to the package directions. In a large pan saute the sausage, turkey and onion. Cook the meat mixture thoroughly; I like to brown the meat quite a bit, but you just need to be sure it is cooked through. Add crushed red pepper and salt and pepper to taste. I like a lot of pepper, and if you like things spicy feel free to add more red pepper. With the heat off, add the tomato sauce (any kind will do, I don't usually like anything with garlic in my lasagna), I love Newman's anything; set aside. When the pasta is done, drain and set aside until ready to assemble. Mix the egg and cottage cheese together thoroughly. Grate both cheeses in the same bowl and mix, set aside.
Now to assemble. This is how I layer my lasagna from the bottom up...
tomato meat sauce (3 layers)
noodles (2 layers)
cottage cheese (2 layers)
mozzarella cheese mixture (3 layers)
basil (2 layers)
spinach (2 layers)
(repeat)
and to eliminate some of the pasta I do not do a final pasta layer,
I end with the tomato meat sauce
(I like to use big spinach leaves and lay them out flat, so it completely separates these layers)
Make sure to note how many layers of each you will need. You don't want to use all your cheese and then not have any for the top!
Bake at 350 for about 50 minutes (until all the edges are bubbling). Top with the rest of the cheese, and bake 5 more minutes or until melted. Let cook for 10 before serving.
Happy Cooking!
with love,
kristin ann :)