I love when we have leftovers and I can create a completely different meal with it! It's just the best thing ever. A few nights before this dinner I had baked a chicken, potatoes, broccoli and carrots, and we just had a whole bunch left. I did end up adding a few extra things, just because. Keep in mind this recipe is just estimated amounts of ingredients. The point, is that you can use whatever vegetable/meat leftovers you have! You might not be as excited as me, but this was a big deal for us at the murray house :)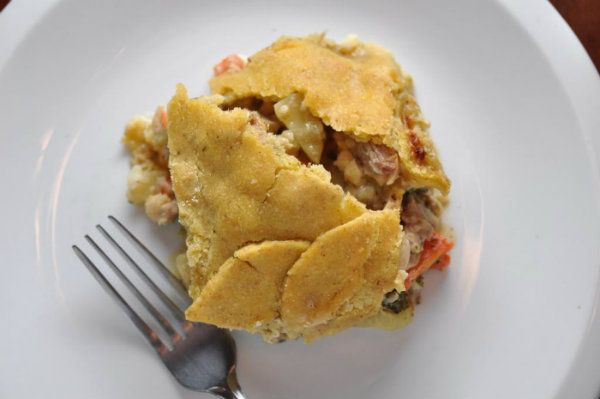 Gluten Free Chicken Pot Pie
You can make the recipe with regular flour for the filling and crust, but because we have gluten issues at our house, we kick the gluten.
Filling:
2 cups chicken cooked and chopped
2 cups potatoes cooked and chopped (cubed)
2 cups broccoli steamed
1 medium white onion chopped
1 cup carrots chopped
1 cup celery chopped
oil or butter
In a large skillet I sauteed the onion, carrots, and celery with a little olive oil (if you don't already have cooked carrots). Added salt, pepper, and seasonings to taste (I like rosemary, sage, and thyme). Should take about 10-15 minutes to get everything soft and cooked through. I had a large bowl with the already cooked chicken and broccoli, and added the freshly cooked vegetables to the mix. You don't have to have any one of those ingredients. So if you have potatoes, peas, and carrots, already cooked, just use those, and you skip a step.
Gravy/sauce:
4 Tablespoons butter (or oil)
1/4 cup brown rice flour (or regular ap flour if you don't do gluten free)
2 1/2 cups milk ( you can use chicken broth, but not quite as much)
Salt and season to taste
In the same pan, melt 4 tablespoons of butter (or you can use oil), and with a wooden spoon mix in the flour. Over medium/low heat continue to stir this mixture in the pan, letting it sit occasionally. I just like to make sure that the flour cooks a little bit. Slowly add your milk to the pan while mixing. A whisk works best, but I use a wooden spoon so I don't scratch my pans. By slowly, I mean you only add a little bit, completely mix it in, and repeat. This sauce isn't always going to turn out exactly the same, because it depends on how long you cook it at every stage, and at what temperature, also the kind of milk/broth you use. So I never add all the liquid until I know what consistency I have and what I want. I like my sauce a little thicker, so that the slice of pot pie holds better, while others don't mind the soupy consistency. You can now salt and pepper to taste. Then add to the bowl of your pot pie filling! Mix lightly so that everything doesn't just mash up.
Crust:
1 1/2 cups gluten free flour (you can use ap flour)
1/2 teaspoon salt
1/2 cup coconut oil (you can use shortening)
about 6 Tablespoons of water
extra flour for rolling out
In a large bowl mix the flour and salt. Add the coconut oil and with a fork, mix away! This step takes a while, you can use a food processor or a hand pastry mixer to speed this up. You want all clumps of flour/oil to be smaller than a pea. Add the water slowly. You may need more, you want the mix to completely hold together, enough to roll out, but not too wet that it sticks to your hands or cutting board.
Roll out dough just larger than your 9x13 pan. After I rolled it out I place the pan on top, and cut out the shape of the crust so that it can lay just on top of the filling (but inside the sides of the pan). Add the filling to a butter/oiled 9x13 pan. Using your rolling pin, roll up your crust and unroll over the filling. Don't worry too much about how perfectly it fits as long as it doesn't lay over the sides of the pan. Make some kind of an air vent for the crust, by using a sharp knife. I usually just do a line maybe 5 inches long down the center.
Bake at 375 for 40-50 minutes. You want all the edges to bubble, and then you know it's heated through. Let sit for at least 15 minutes before you serve.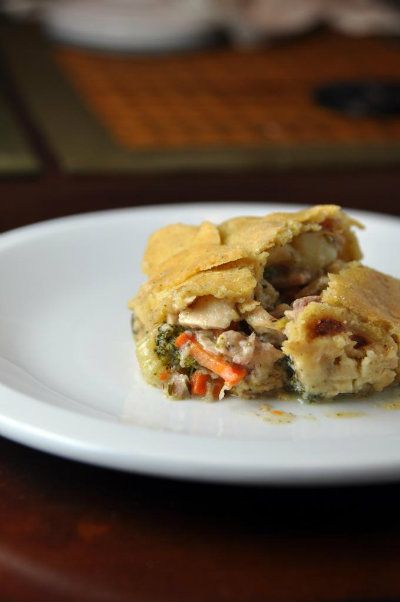 *I had extra dough, so I cut out a few leaves and placed them on top of the crust, which is why you see so many layers and what not. You could probably half this recipe to make it in an actual pie pan or a smaller corning ware type dish. I actually made the 9x13 and a medium corning ware size dish because I had quite a bit of filling, and I just made more sauce/gravy for the extra dish.